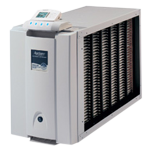 Air cleaners effectively remove bacteria, pollen, animal dander and other pollutants as small as 0.01 microns. That's 18,000 times smaller than the head of a pin. The higher the Minimum Efficiency Reporting Value (MERV), the more efficiently the cleaner removes particles. We offer air cleaners that range from MERV 10 to MERV 15 to meet your needs. For those families that have severe allergies, we also offer Whole House High Efficiency Particulate Arresting (HEPA) filtration systems.
Air Purification Product Offering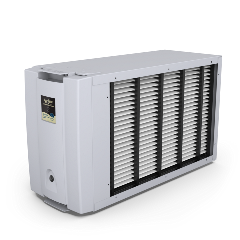 Whole-House Air Purifier
View Brochure
Model Family: 5000
Filter efficiency: Up to 95% @ 1.0-3.0 Microns
Germicidal rate: 98% of airborne bacteria-sized particles and fungi; 89% of airborne virus-sized particles and ultra-fine particles — down to 0.3 microns in size.
Warranty: 5-year warranty after date of installation
Manufacturer's Stated Benefits:
Traps 99% of airborne pollen, mold and spore-sized particles
Eliminates 98% of airborne bacteria-sized particles
Removes 94% of respirable dust, dust which the EPA reports can trigger asthma
Captures 80% of airborne particles the size of tobacco smoke
Removes up to 80% of airborne virus-sized particles-something no other air cleaner in the industry can do!
Easy to maintain?the 5000 requires infrequent replacement of filtering media and wiping down of ionizing wires?a process that ca
Unlike competitive electronic air cleaners there is never a need for the frequent and time-consuming cleaning or washing of coll